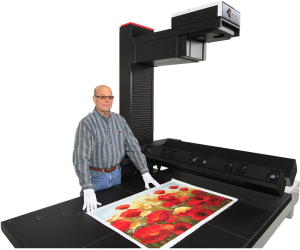 At RCP we believe in using the best to create the best. Our beautiful printers would be nothing with out the original artwork created for them. Utilizing high quality graphic design or scanning original artwork with our Cruse Scanner.
RCP's Cruse Scanner is superior to the photography of large size originals, thanks to it's image capture with a linear CCD in strictly controlled light conditions and with consistent sharpness, homogenous light exposure and consistent reproduction angle.

Please call us to set up an appointment to see our hardware or so we can send you even more information about how we make your work shine at 517-647-4600.